Lillooet River Lodge Bed & Breakfast
Closest Landmark: Oberson Road
Big Country Living at Lillooet River Lodge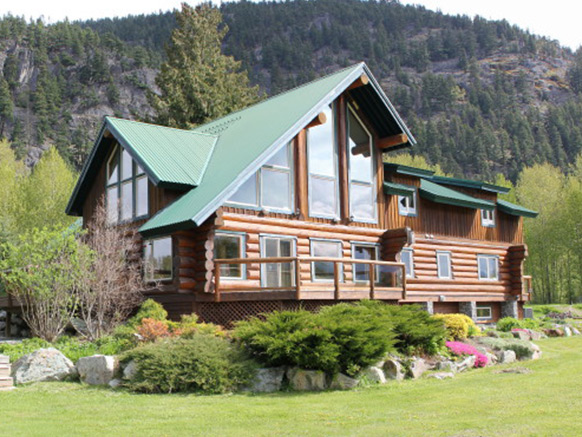 About Lillooet River Lodge Bed and Breakfast
The Lillooet River Lodge is a special place, nestled in its own enclave of private serenity just moments from the heart of Pemberton. Located on 4 acres of land alongside the Lillooet River, the property features beautifully landscaped gardens, an outdoor hot tub and fire pit, outdoor patios and a large vegetable garden providing fresh organic produce and herbs for your meals. You will experience great hospitality from the moment you arrive. Choose a continental breakfast or a full selection of our breakfast menu prepared especially for you.
The river rock beachfront is the perfect spot for eagle watching, meditation and fishing. Each of the well appointed three bedrooms in the main lodge has a bath en suite and spectacular views of Mount Currie, the mountain that dominates the Pemberton Valley. Luxury linens and bathrobes guarantee a wonderful relaxing stay. On the property we have a separate building with a large living space suitable for small seminars and workshops. It is also available for self catering rental.
English, French and German spoken.
Room Details
3 Rooms In the Lodge
Room #3: King bed, en suite bathroom, TV, Stereo, fridge/mini bar, seating area, desk.
Room #4: Queen Bed, en suite bathroom, fridge/mini bar, seating area.
Room #5: King bed (2 twin beds), en suite bathroom, fridge/mini bar, seating area.
Room Rates No Breakfast: $119 plus tax per room.
Room Rates with Breakfast: $129 plus tax per room. (includes a continental breakfast (juice, milk , yogurt, fruit, cereals ,baked goods, toast, jams, coffee/tea).
Full breakfast: (bacon and eggs) please add $5.00 extra per person.
1 Room In a separate building
Loft apartment with one queen size bedroom and two single beds on mezzanine floor. (four people maximum)
Features & Amenaties
Continental or full breakfast included.
Complimentary tea or coffee upon arrival.
Outside Hot Tub.
Bar size fridge, bathrobes in each room.
Coffee maker/refrigerator/Stove.
Large screen television in common loft area.
Cable Television in room #3, Free WiFi.
Ample parking.
Directions
Contact Lillooet River Lodge B&B